Flame detection systems from HMA Instrumentation are critical for applications in the fire & gas sector where risk to personnel is high, and where any possibility of fire could result in substantial damage to high-end equipment. The main criteria for adequate flame-detection systems or multi infrared flame detection are to minimise both the total cost of ownership, in order to increase the return on investment on equipment and technology, while reducing the total number of false alarms, which makes for a safer and more productive working environment in a range of industrial applications.
Flame detection systems from HMA Instrumentation also offer the widest possible coverage for maximum effectiveness and reduced response times, as well as complying with the necessary global approvals and regulations for health and safety and quality.
Typical applications for flame detection systems from HMA Instrumentation include (but are not limited to) a diverse range of applications, from turbine enclosures to oil and gas pipelines, offshore platforms, FPSOs, refineries, manufacturing facilities, aircraft hangers, hydrogen filling stations, and munition plants.
Replacing Your Flame Sensor: How To Choose The Right Fire Detection System
One of the essential parts of any fire and gas sector site is the flame sensor system. However, we often take the reliability of a fire detector for granted, and we don't realise it needs replacing until it's too late. At HMA Instrumentation, we're passionate about providing high-quality fire detector solutions to businesses across industries such as soil and gas, petrochemicals, mining, processing, material handling, and power generation. Over our decades of helping companies integrate state-of-the-art flame detector technology, we've picked up a few tips for choosing the right fire detection camera for your site.
Signs You Should Update Your Fire Detector System
We grow so accustomed to seeing fire cameras everywhere that we don't often stop to consider whether or not they need updating. Here are a few signs that your fire detector may require a replacement.
If your system is old or out of date
An old flame sensor system is more trouble than it's worth. Not only will dated fire cameras require more maintenance and more money to upkeep, but there's also a chance they're using outdated technology. In industrial sectors, you can't take the risk of trusting old, obsolete fire detection technology. If you're in doubt, call the specialists at HMA Instrumentation to come and assess your fire detector system.
If your flame sensor requires a lot of maintenance. It's completely normal to have your fire cameras maintained annually, and occasionally there may be necessary repairs. However, if you find that you're spending far too much money repairing your flame sensor system over and over, it's time to consider a replacement or an upgrade.
If your site is changing. Whether your site is growing or downsizing, you'll need to make sure you have fire cameras that cater to the size of the site and the number of people within it.
Questions To Ask So You Select The Right Flame Sensor
Before selecting fire cameras, there are a few things you need to consider to ensure you choose the right system for your workplace.
What are you protecting? 
Is your flame detection camera in an area with people, property, or a combination of the two? Every site's requirements are different, so each needs a unique fire detector system.
Has the building undergone a risk assessment? 
A thorough risk assessment helps you identify the most significant fire hazards, allowing you to more accurately determine where you need to place fire cameras and other fire prevention equipment.
Does your company have any unique needs? 
If you work with highly volatile, flammable materials every day, you may need a more tailored fire management plan with more fire cameras. If your workplace is substantial and complex, you may need to be more careful with the placement of each flame detection camera.
Will your fire system make your business compliant? 
Above all else, you need to ensure your workplace is 100% compliant with all fire safety laws and legislation. Before installing any flame detection camera, make sure you understand your obligations and requirements.
Why HMA Instrumentation is the Best Choice For A Flame Sensor
HMA Instrumentation is a favourite amongst companies internationally, and it's not hard to understand why.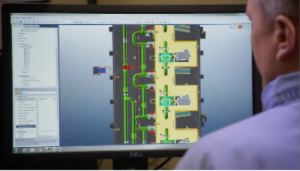 High-quality products. 
If you need a flame detection camera, you can't get much better than our range from HMA Instrumentation. Our systems use innovative, cutting-edge technology to reduce the number of false alarms, thereby creating a safer and more productive work environment.
Globally compliant. 
Our flame detectors offer the most comprehensive coverage for maximum effectiveness and reduced response times. HMA Instrumentation's products meet the necessary global approvals and regulations for health, safety, and quality.
Premium customer service. 
No matter how large or small your business, HMA Group is dedicated to providing professional, tailored customer service to each of our clients. Whatever your needs, HMA Group can devise a solution that suits you and your business.
When You Need A Flame Detection Camera, Head To HMA Group
Since 1966, HMA Group have been manufacturing for several internationally respected companies such as Det-Tronics under license. Simultaneously, we have also developed our own range of premium quality products and equipment. We're renowned for our professionalism, our extensive range of equipment, and our comprehensive services. When you need a flame detection camera, you can rest assured that you're getting the very best from HMA group. If you're in the market for a flame sensor system, feel free to browse our range online today.