About HMA Group Divisions
Formed in 1966, Halley & Mellowes represents an impressive list of internationally respected companies and manufactures under licence to a number of these companies. We also manufacture a range of products and equipment developed and designed by our own engineers. In 1990 an employee owner group was formed and acquired 50% of the company from co-founder Mike Mellowes. These shareholders span a diverse section of the company and underwrite the efficient function of the Halley & Mellowes Group.
The Halley & Mellowes Group of Companies (The HMA Group) manufactures, services and sells a wide range of capital plant equipment to a diverse range of industries. This includes the mining sector, processing, material handling, power generation and oil and gas refineries. To these sectors we provide services such as wear resistant linings, material handling solutions, flow control solutions, industrial instrumentation solutions, geotechnical instrumentation, boiler cleaning technology and engineering consultancy services, amongst others.
The group was originally comprised of Halley and Mellowes, Greenbank Terotech, Ceramatech, POGC Sensor Technology, Diamond Power Australia, Valveco, Techniplan, Measurement Resources, Geotechnical Systems Australia, Select Transmission & Motors Australia and Uretech. These merged to form the following divisions: HMA Materials Handling comprising of Halley & Mellowes and Techniplan, HMA Wear Solutions comprising of Greenbank Terotech, Ceramatech and Uretech, HMA Instrumentation comprising of POGC Sensor Technology and Measurement Resources, HMA Power Generation comprising of Diamond Power Australia, HMA Flow & Industrial comprising of Vavleco and Select Transmission & Motors Australia and HMA Geotechnical comprising of Geotechnical Systems Australia.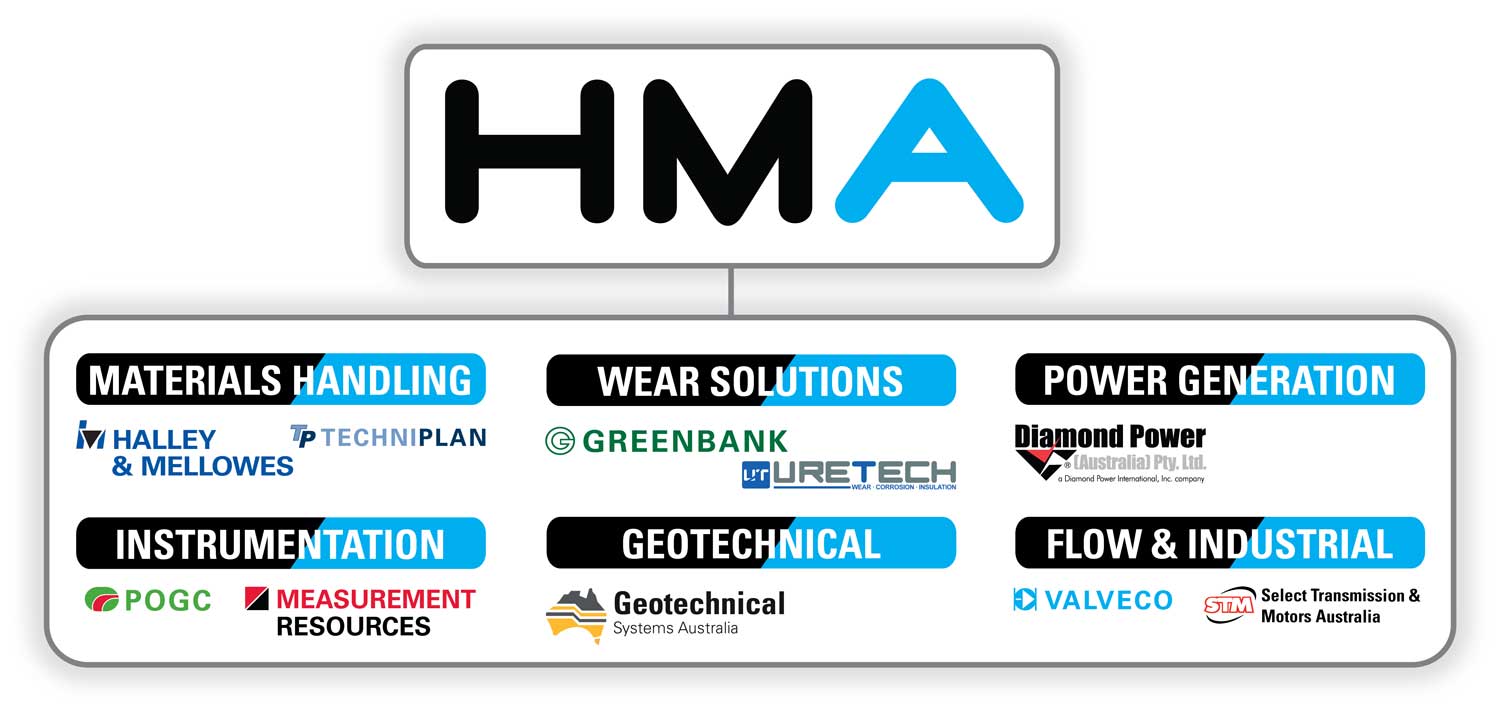 HMA Group Timeline
1966 – Halley & Mellowes formed in 1966 by Keith Halley & Mike Mellowes
1982 – Incorporation of Greenbank Terotech
1984 – Diamond Power International purchase of Keith Halley's shareholding
1985 – Incorporation of Diamond Power Australia
1990 – Employee Owners Group formed to acquire Mike Mellowes' shareholding
1999 – Purchase of POGC Sensor Technology business
2000 – Purchase of Valveco business
2006 – Purchase of Ceramatech and incorporation into Greenbank business
2007 – Purchase of CVC and incorporation into Valveco business
2007 – Purchase of 50% of Techniplan business
2009 – Purchase of Measurement Resources business
2009 – Purchase of remaining 50% of Techniplan
2011 – Purchase of Geotechnical Systems Australia business
2013 – Opening and expansion of office in Indonesia
2015 – Purchase of Select Transmission & Motors Australia business
2016 – Merger of companies to HMA divisions
2016 – Purchase of Uretech business in South Africa
2016 – 100% Employee ownership
2018 – Established South African Wear Solutions factory
2019 – Upgrade of Perth manufacturing facility
2020 –  Upgrade of Mackay manufacturing facility