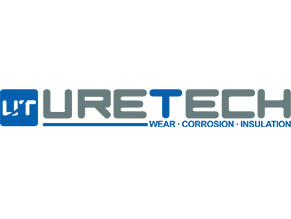 Uretech have been manufacturing polyurethane and insulation related products since 2004.  The first polyurethane wear liner installation took place during August 2004 at a quartz mine approximately 60km from Johannesburg. 
Polyurethane liners were originally subject to scepticism about their wear resistance properties compared to traditional steel liners. The success and feasibility of using polyurethane as a replacement for steel has since become apparent. 
Uretech's first liners were blue, with steel backing plates for stiffness.  These were plagued by the in-flexibility of the steel backing plates, were very difficult to manufacture and install.
In 2006 Uretech developed a unique composite backing plate replacing the steel backing plates.  This technology has since been patented and had tremendous benefits compared to steel backing plates.
Uretech has a proud history of developing and commercialising new products for the various industries they supply to.  Uretech is also ISO 9001 certified.
[pods name="shop_item" limit="50″ where="product_brand.name='Uretech'" template="Items"]