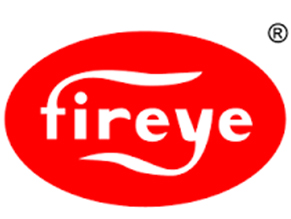 Fireye
As a leading manufacturer of flame safeguard controls and burner management systems, Fireye has an installation in industrial and commercial applications throughout the globe. Fireye's product range may be found in government and public buildings, industrial properties, power plants, pulp and paper mills, organic compound facilities and food process plants. Fireye is part of the Carrier group which is a unit of United Technologies Corporation. (NYSE:UTX).
Fireye first offered a commercial/industrial electronic flame safeguard control in the thirties. This was a photoelectric device designed to sight the presence of an oil flame in less than a second.
Fireye then became the first company to develop infrared scanners to detect gas and oil flames. Fireye were also the first company to develop a scanner that discriminates between signals from adjacent burners, and the first to develop a completely solid-state programming control. Fireye now has the highest standards with a microprocessor-based, auto diagnostics scanner program that can communicate in five different languages.
Fireye engineering employees perpetually evaluates and tests new ideas in their research labs and analysis facilities based in Derry, NH.  Fireye is always looking for methods to improve the current scanner, controller and igniter range, likewise develop new product entries into the connected markets of combustion management. Fireye has maintained ISO 9001 certification since 1996. Fireye's manufacturing facility is state-of-the-art and has facilities for designing, fabricating, assembling and testing electronic products. Fireye constantly reinvests in manufacturing capability, to ensure that they keep pace with new technologies and global competition.
Fireye operates twenty offices worldwide and is proud to have had HMA Instrumentation as their agents in Australia for over 30 years. HMA Instrumentation is also the Fireye agent within New Zealand and South Africa meaning the most effective people in your area within the flame safeguard and combustion management industry can provide fast and responsive service.
Fireye and HMA Instrumentation are extremely client focused and we support our customers through open communications to ensure our customers are happy and that we listen rigorously to what the market tells us.
Both Fireye and HMA Instrumentation salespeople and server personnel are fully trained within the technologies and engineering of our scanner, burner control and igniter range.  Understanding the commercial and industrial applications as well your specific application requirements is key to ensuring we recommend you the Fireye system that may best meet your needs.
Flame Scanners
Fireye have a range of UV flame scanners and IR flame scanners which accurately detect the presence of flame or absence of flame in a combustion chamber and some provide both self-check and non-self check capabilities. Fireye's integrated flame scanner range includes the Insight II 95DSS3 and Insight 95IR, 95UV & 95DS while Fireye also has discrete single burner scanners and discrete multi-burner scanners. Fireyes range of discrete flame scanners for single burner applications include the UV90L, UV1A and 45UV5 however this can also be used in multi-burner applications.
[pods name="shop_item" limit="50″ where="item_category.name='Flame Scanners'" template="Items"]
Burner Controls
Fireye provides a range of burner management flame safeguard and combustion controls to the HVAC marketplace. Our BurnerPRO™, BurnerLogix™, Flame-Monitor™ and MicroM families offer safe and reliable combustion ignition for packaged burners used in commercial and industrial boiler applications. Fireye burner management flame safeguard and combustion controls are also suitable for direct fired makeup air units and commercial hot water heaters.
[pods name="shop_item" limit="50″ where="item_category.name='Burner Controllers'" template="Items"]
Igniters & Pilots
Fireye also offers the SureFire igniter range for ignition of large burners and boilers in industrial applications. The Fireye SureFire igniters are complimented by the Fireye SureFire natural draught gas pilots and Fireye SureFire forced draught pilots. Both the Fireye SureFire natural draught gas pilots and Fireye SureFire forced draught pilots are available in 32mm and 48mm diameter.
[pods name="shop_item" limit="50″ where="item_category.name='Igniters & Pilots'" template="Items"]